As much as we love PhotoShow.com, we know that folks like to hang out and keep their photos in lots of different places on the web. So last month we launched PhotoShow Developer Tools, which make it easy to incorporate PhotoShow creation and viewing into any website.
If you're the proprietor of a website - large or small - your users can now create PhotoShows using photos stored on your site, without ever leaving your site. (Users can also upload photos from their PC.) Our PhotoShow authoring tool can be embedded directly onto your pages or popped up in a new window. Here's what it looks like: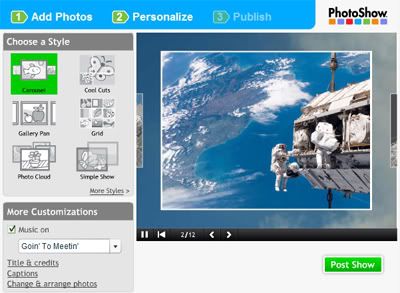 PhotoShows can be automatically posted on your site with your branding in the playback window - or they can be posted on blogs, social media sites, you name it - basically anywhere users can copy & paste HTML code. Shows can also be made into personalized DVDs and even broadcast to TV in selected cable markets.
Developers also get access to another nifty tool that we're calling instashow - this lets you automatically display a set of photos as a PhotoShow, which the user can later customize with their preferences. Our friends at Tribbit.com have already done a great implementation of this on their tribute pages. Here's an example.
We have many more features in store for PhotoShow application developers. To get started today, visit developer.photoshow.com and register for an API key.